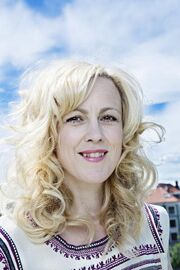 Write the first paragraph of your page here.
Before Lilyhammer
Edit
Sigrid is a single mother for her son.
In Lilyhammer
Edit
Frank meet Sigrid on the train in the way to Lillehammer. Frank tries to hook up Sigrid and after a time they stay together, as a couple. After Sigrid and Frank have sex, Sigrid discovers she is pregnant, so Frank and Sigrid had the twins AssBjørn and AssBjørg. In the last episode of the first season, the relationship between Sigrid and Frank ends.